Ayurvedic Yoga Therapy Session with Arpita Shah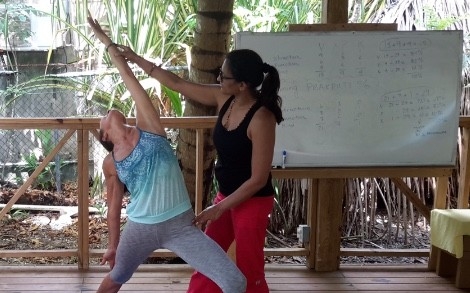 Ayurvedic Yoga Therapy incorporates the healing qualities of Ayurveda with the sister science of Yoga to suit the individual's unique Ayurvedic Constitution.  Lifestyle choices and the yoga practice should change depending on the time of day, time of year, time of life and whatever imbalances (physical, emotional or energetic) are present in the moment.
This is a unique approach to the modern day yoga group class.  The asana sequence is designed specifically to address any doshic or lifestyle imbalances. Arpita Shah provide an individualized Ayurvedic Yoga Therapeutic session which will support the student on a daily basis.
Purchase your Ayurvedic Yoga Therapy  session and then use the contact form on this page to schedule your appointment with Arpita.
Testimonials:
I'm almost hesitant to say for fear of this class overfilling… is so informative and helpful; everything is very clearly explained. She takes the time and energy for helpful tips to better not only your personal physical practice, but internally and spiritually as well!
– Deeann K.
Arpita's Ayurveda asana class is awesome. No need for a juice cleanse when you can just go to her class on Wed at noon
– Ha N.
Ayurveda with Arpita provides valuable information. She listens to her students and provides a clear explanation of our practice. I'm anxious to learn more from her and always look forward to our next class! I know I will sleep well tonight after our class today…thanks, Arpita!
– Denise B.
Arpita Shah's Ayurveda class at Divine Center of Yoga is such an innovative, informative, and refreshing departure from the usual yoga class offerings. Arpita seamlessly combines her Yoga skill and Ayurvedic knowledge to create a very functional, holistically rewarding asana practice each week.