200 Hours Yoga Teacher Training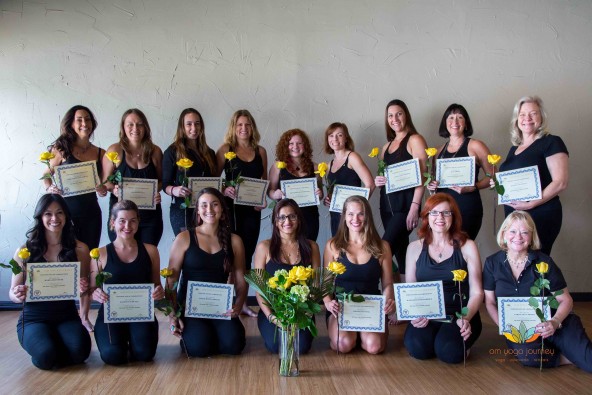 This Yoga Alliance RYS 200 registered program, is offered as a series of eight modules. This means you can take each of the modules individually or as a whole. These modules are open for anyone to attend, but ALL modules and assignments must be completed for Yoga Alliance registration as an RYT (Registered Yoga Teacher).
In order to enhance the learning experience there will be self-study, project practicum and workshops required outside of scheduled workshop hours to help solidify topics covered. After you complete ALL 200 hours of training (all eight modules), you are eligible to apply with Yoga Alliance should you choose to become registered yoga teacher. Upon completion of the coursework, and depending on your own practice, you will be prepared to share the gift of yoga with others.
Non-refundable registration fee of $150.00 is required to hold your spot for upcoming 200 Hour In- Depth Studies and Teacher Training Program.
2017 batch is full. Registration is now open for 2018 (see dates below)
Program Includes:
Study of the seminal philosophical texts of Yoga: The Bhagavad Gita and The Yoga Sutra
A working knowledge of the yogic body, from both the Western (anatomical) and Eastern (energetic) perspectives.
Pranayama: breath work and the subtle body
Principles and practices of Meditation, Mantra, and chanting
Correct alignment, modifications, and adjustments for the yoga postures
Vinyasa Krama: The art of sequencing
Methods of teaching to develop an integrated, safe and uplifting class plan
Understanding and role of each chakra, its effect on life, and its relation to other chakras
Yoga therapy
Basic concepts of Ayurveda, including its philosophical origins, the five elements
Ethics and business of teaching Yoga
Practice teaching sessions with feedback
If you have any questions about the program, please contact Arpita by filling out contact form on this page.
Book List:
Click here to get complete book list for this program.
Training Location:
Divine Center of Yoga, 3280 W Southlake Blvd, Southlake, TX 76092
2017 Batch 2 Program Dates & Time:
We will meet one weekend per month at following dates at Divine Center of Yoga
Friday: 5.00pm to 9.00pm
Saturday: 11.00am to 6.00pm
Sunday: 9.00am to 5 pm
    Module 1: Aug. 11th – Aug. 13th, 2017
    Module 2: Sept. 8th – Sept. 10th, 2017
    Module 3: Oct. 13th – Oct. 15th, 2017
    Module 4: Nov. 3rd – Nov. 5th, 2017
    Module 5: Dec. 1st – Dec. 3rd, 2017
    Module 6: Jan. 5th – Jan. 7th, 2018
    Module 7: Feb. 2nd – Feb 4th, 2018
    Module 8: March 2nd – March 4th , 2018
2017 batch is full. Registration is now open for 2018 (see dates below)

Option 1 – 2017 Payment in Full
Upfront payment for all eight modules is $2200.00 plus $150 registration fee.
Option 2 – 2017 Pay as you go
Payment per individual module for is $300.00 plus $150 registration fee.
Accepted Payment Methods: Cash/Check/MO/PayPal